Alison Klaiman was GRNlive's correspondent in Beijing, and she is now based in New York. This week I had the opportunity to sneak a peek at her documentary Ai WeiWei: Never Sorry, about Chinese dissident artist Ai WeiWei.  Ai WeiWei has a rock star-like image in china and outside of it. He exhibits all over the world, his work is communicative, pop-arty, he's been referred to as the Chinese Andy Warhol and he designed the iconic Birds Nest Stadium which was so identified with the 2008 Olympic games in China. But that moment of joy in the relationship between Ai and the Chinese regime was short-lived. He insisted of investigating the earthquake in Szechuan in April 2008, which ended in the death of thousands, many of them children in badly constructed schools. Ai joined another Chinese artist, Zen Zuoren, in an investigation, aiming to compile a list of students killed in the earthquake. He also posted his list of names of schoolchildren who died on the wall of his office at FAKE Design in Beijing.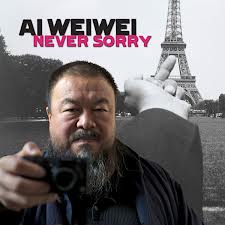 He insisted on filing a complaint against a police officer who attacked him while detaining him illegally for trying to testify for Tan Zuoren. On 14 September 2009, Ai was diagnosed to be suffering internal bleeding in a hospital in Munich, Germany, and the doctor arranged for emergency brain surgery. The cerebral hemorrhage is believed to be linked to the police attack.
AWW is a keen user of social media, a constant tweeter with a great passion for communication. One of my favourite tweets of his is: "Let these be the last words: the persons who hate to sleep early at night and love to stroke the keyboards in front of monitors create a miracle of ending the last dark age.¨(August 2, 2009 01:45:55). Another great one has to be: "Overturning police cars is a super-tough workout physically. I enjoy this sport event which probably is the only sport event I like, and I will definitely participate in". (June 15, 2009 18:46:59) In a particularly funny and moving moment of the film a fan approaches him and says "Teacher Ai, I follow you on Twitter" – a declaration that echoes like an oath of allegiance.
In 2011 AWW was detained for 81 days and then released on bail under strict conditions that he stops twitting and refrains from being interviewed. In June 2011, the Beijing Local Taxation Bureau demanded a total of over 12 million yuan (US $1.85 million) from Beijing Fake Cultural Development Ltd in unpaid taxes and fines. He is still struggling to contest this demand, though he managed to pay most of the sum by generous donations from his supporters, mainly in China.
Alison's film follows him through this fascinating period and captures his unique character – a larger than life, warm, somewhat bear-like man with immense charisma, great curiosity and heaps of charm, who is determined to change his country for the better. Despite the constant persecution he is subjected to, the film is optimistic and uplifting. AiWeiWei: Never Sorry is released in the UK on 10 August 2012, and dates for its openings around the world will be available on the film's Twitter account @AWWNeverSorry and on its Facebook page.
Watch our interview with director Alison Klayman, and catch her film this summer/autumn in a cinema close to you. Thank me later…